Dental Financing
Take control of the health of your mouth. With the CareCredit healthcare credit card you can benefit from our special dental financing options*.
Pay My Provider
Now you can pay online with CareCredit. Take care of outstanding bills quickly and securely.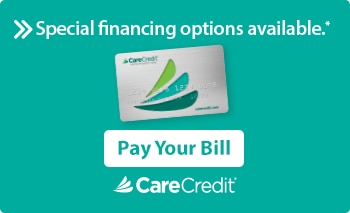 Preventive dentistry financing
Being proactive about your mouth health will have you smiling for years to come. That's because regular dental check-ups by qualified dental professionals can improve your overall health and well-being by catching problems before they start.
Here are just some of the many preventive dental care procedures and treatments you can use your CareCredit healthcare credit card for you or your family:
6-month check-ups
Endodontics
Periodontics
Periodental scaling
Periodontal disease prevention
Gingivitis prevention
Fluoride treatment
Ceramic fillings
Sealants
Teeth cleaning
Mouth guards for sports
Restorative and cosmetic dentistry financing
CareCredit is a payment option that will have you smiling wider and brighter. With the CareCredit healthcare credit card you can use your card to finance cosmetic dental procedures such as:
Invisalign teeth straightening
Lumineers
Six Month Smile
Veneers
Dental implants
Ceramic crowns
Root canals
Braces or retainers
Bite plates
Headgear
Tooth repair
Dentures
*(subject to credit approval. Minimum monthly payments required.)