West Covina Smiles – Your First Visit
Gentle, Expert and Affordable Dental Care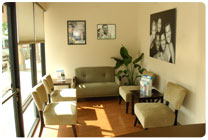 We would like to extend to you a personal invitation to visit us and give yourself the opportunity to experience gentle, expert, and affordable dental care.
You can relax in the comfortable and friendly environment that our office provides.
At your consultation appointment, Dr. Marin will explain in detail the findings, treatment option, length of expected treatment, anticipated result and payment options.
We understand everyone's financial needs. That is why we have several affordable and flexible payment options available.
Enjoy your first visit to the dentist!